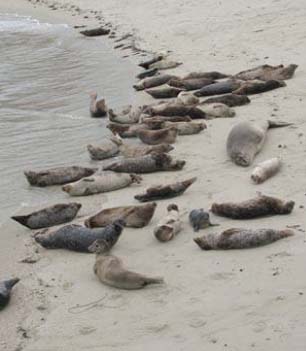 The WAN Conservancy provided live world wide web viewing of California Harbor Seals giving birth and rearing their young at Casa Beach in La Jolla, California
Each year in January and February harbor seals bear their young on the beach in La Jolla. The colony has about 200 seals which use this site as a haul out location and use the beach during the winter and spring as their rookery and place to rear their young. People come to view the seals but this web cam enabled those who cannot come to be able to see them and watch the births.
This was the first and only seal cam on the Pacific Coast of the US. This custom made High Definition webcam was equipped with IR night vision to allow people and scientific researchers a rare glimpse of Harbor Seals giving birth to new life.
This Seal-Cam project is commensurate with our core mission of endeavoring to educate the public, provide for scientific research, and thereby promote sustainable ecosystem practices and management. The reason this is essential for this Harbor Seal rookery is described below.
The Casa Beach Harbor Seal rookery in La Jolla is the only southern California mainland Harbor Seal rookery south of Ventura County some 200 miles to the north and is the southernmost harbor seal rookery in the United States. Harbor Seals use the beach for hauling out, resting and re-oxygenating every day of the year. Pupping and nursing also occur here every year, with about 40 pups born at night during February and March. This rookery, uniquely in a highly urbanized area, is also in peril because of an orchestrated program to extirpate them through continual harassment by an organized group.
Recognizing that the seal rookery is a natural treasure as well as an economic asset in attracting thousands of tourists we streamed real time live views of the seals on the internet for world-wide enjoyment as well as to expose the heinous activities to extirpate the seals. One flagrant scene of animal abuse and cruelty went viral on every major news cast and prompted closing the beach at night during the seal birthing season, resulting in a record number of births.
Our Seal Cam was also an instrument for scientific research and data collection on seal and human interactions, all of which can help derive and implement sustainable ecosystem protection and management of this besieged seal habitat in a way that can be compatible with human activities and enjoyment. To accomplish this we used a custom built high tech, highly sophisticated HD webcam system, with night vision and remote control via the internet with which our 24/7 human operators scanned the beach and zoomed in close focus on scenes of seals giving birth, nursing, mating, etc which are of interest to scientific research and the average of 1,000 world-wide visitors to our website. Our operators also collected and documented data hourly on number of seals, seal behavior number of people and human disturbances which are provided to the city of San Diego and to NOAA.