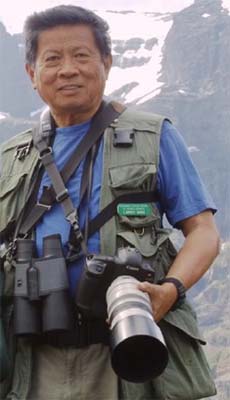 Focusing on Nature
Larry Wan graduated with Bachelor's, Master's, and Ph.D. degrees, all from Yale University, in Engineering and Applied Sciences. He is a successful entrepreneur and founder of a number of high tech companies. However, his pride and passion is being a naturalist, long time environmental activist and nature photographer. His nature photography is dedicated to raising public awareness of the magnificence, power, beauty and wonder of Nature and to inspire environmental protection and wildlife conservation.
Larry specializes in photographing the wild and natural on extreme places of the earth---from the Arctic to the Antarctic, where Nature is relatively free from destructive human activity to portray the pristine richness of Nature that once was and why what precious remains must be preserved for all future generations.
A National Geographic photography award winner, Larry's works are "certified organic" in that they are composed and captured through the lens as is with no "artificial additives" -i.e. no digital manipulation. They meet the authenticity requirements of natural science publications and are for the purest art collectors who want to acquire and display the incomparable unaltered artistry of Nature.
His work has been published in Birder's World, Audubon Society, Sierra Club, California Coast and Ocean, Amicus-Natural Resources Defense Council, A Wheelchair Rider's Guide to Los Angeles and Orange County Coast, The Record, Bio Science, American Lung Association Calendar, American Bird Conservancy, book on Environmental Legacy of UC Natural Reserve Systems, among others.
Many of his photos are donated to environmental organizations for fund raisers and special events. He has served on the Boards of a number of environmental organizations including Vote the Coast, California League of Conservation Voters, the Earth Institute, Urban Wildlands, Audubon California and Wildcoast. He is the Chairman and founder of the Western Alliance for Nature, a conservancy dedicated to preserving critical ecosystems and biodiversity.
Except otherwise designated, all photos on the website are by Larry.