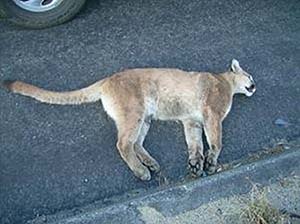 Habitat fragmentation is especially devastating to the Santa Monica Mountains' largest predator, the Mountain Lion. The demise of such apex species impacts the entire ecosystem and severely degrades its heath and proper function. Network of freeways pose especially lethal barriers to wildlife movement and habitat connectivity.
The Santa Monica Mountains are only large enough to sustain two adult males. To survive, young males must find their way out of these mountains or face the prospect of being killed by the resident adult males. In fact, almost all of the young males born here have died either as a result of being killed by the existing two adult males or attempting to cross the freeways. The result is that the resident males are interbreeding with their own offspring resulting in serious genetic problems.
As an example of what has been happening, in 2013 a young mountain lion was killed when he attempted to cross the 101 Freeway from the north. Six lanes of freeway and a concrete wall made an impassable barrier for the lion. Had he made it he would have introduced new genetic material to the inbred isolated mountain lions in the Santa Monica Mountains. Many terrestrial wildlife, large and small, suffer the same deadly fate. Plants that depend on them for seed dispersal are genetically barricaded as well.
The California Dept. of Transportation, CALTRANS, has responded to this tragic situation by seeking a federal grant for a wildlife connector across the 101 Freeway at Liberty Canyon where this unfortunate lion became a road kill and the most likely place for such a crossing to be successful. The WAN Conservancy is joining with the National Wildlife Federation to inspire public support and unite conservation minded government agencies to participate and support the CALTRANS connector proposal.
Considerable funds are required for this to become a reality. These funds must come from a combination of public donations and government grants. You can help by clicking the donation button below. As usual, 100% of any donation designated for a specific conservation project goes to funding that project. You can also help by emailing this webpage to all your friends. If we are to preserve the health and biodiversity of the unique Santa Monica Mountains ecosystem, we must continue to protect those areas that have been set aside for wildlife and enlarge critical habitats, as well as stitch together the shredded and tattered ecosystem with connectors for wildlife.